Recently many of our showroom pieces have found new homes.  With so many spaces to fill in our shop we have been busy cranking out some new retail.  I personally really enjoy working on retail pieces.  I think it may have something to do with the stretch of time we spend with it.  Typically we acquire a piece of furniture in some manor.  Its condition is usually unfortunate.  It usually hops in the queue (which is in one of our two sheds) with all the other pieces waiting to be picked for a makeover.  When its number is finally called we get to use our creativity by picking fun and unexpected fabric choices.  Eventually our creation makes its way to the showroom.  When the day finally comes its rightful owner takes it home it's like sending your kid off to college (okay…probably not but you get where I'm going with this, right?)  Take a look at some of our new creations.
Before…
After!
I love this fabric…and so does everyone else at the shop.  As a matter of fact, Clar just had a chair of hers upholstered with this stripe and Meredith and I have plans for using it in our homes too.  The frame of the settee is great also.  It has a slight mid century feel yet is still current.  It is  a flexible piece that  can be incorporated easily into many interiors.
You may have noticed the electric pillows that are perched on this settee.  A photo cannot do this fabric justice.  This nontraditional floral is by Isaac Mizrahi (super chintz- citrus).  These pillows can add a punch to any sofa.  I have plans to use this fabric on a lampshade!
Before…
After!
We picked up these Parsons-style slipper chairs from our dear neighbors at Corner Collectors Market.  These chairs went from frumpy to vibrant.  We chose a cotton blend velvet in Cobalt by Fabricut.  To say that these chairs are comfy would be an understatement.  If you would like to meet this pair in person you can find them at Mercury in downtown Austin.
Before…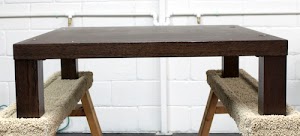 After!
You may have seen this ottoman before.  It made its debut on Amanda's monthly Design Sponge post.  It once was a boring coffee table but now is a standout piece.  The fabric is by Lulu DK (chant reverse- royal).
Lastly, we have a new pair of lamps with custom shades.  The classic shape and neutral color affords endless scenarios for these lamps.
Amongst all of these wonderful additions, we also have some new wood pieces by a local craftsman as well as some lampshades made with custom fabric on the way.
Help find our babies a new home and come by the shop. OR check us out on Etsy!